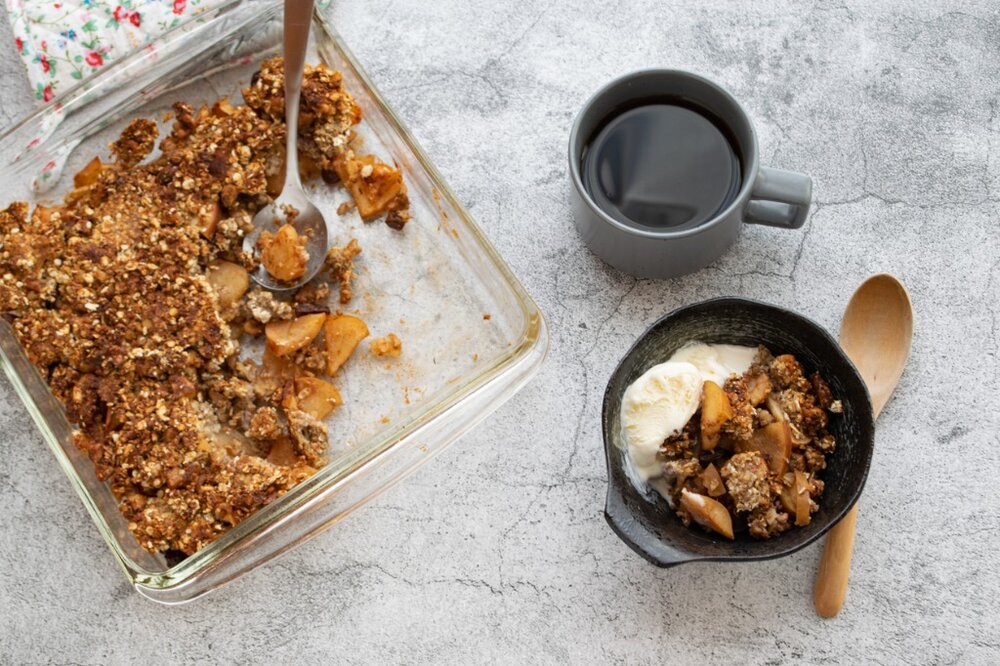 There's nothing like cooler temperatures and changing leaves that make me crave all the flavors of fall: apples, cinnamon, pumpkin, pears – you name it! 
While we have more of a mild fall season here in Southern California, I'll take any excuse to whip up an easy fall dessert to feed our family. And that's where this apple pear crumble pie recipe comes in the picture. This simple dish is a crowd-pleasing dessert that instantly brings in the fall flavors into our homes (and bellies!). 
The good news? You don't have to venture into a mountain apple orchard to pick apples to make this recipe. Unless of course, you want to. 
But if you're a busy mom who wants to bring in all the flavors of fall with an easy dessert, this dish is for you. 
Because apples and pears are seasonal produce, it's easier to access the ingredients for this dish. What's nice about this recipe is that the ingredients needed to make this dessert are things you likely already have on hand.
And it's versatile, too – you can make this dessert for any weeknight when you need something special and yummy to get you through the rest of the week, or as a dish you can bring for a weekend get together. This is also a nice dessert to make ahead and bring to a new postpartum mom or neighbor. Whatever floats your boat – you honestly can't go wrong with this dish. 
The BEST part about this dish is how easy it is to put it together. I mean, seriously – you can't get easier than slicing, dicing and mixing it all together in a dish and calling it a day. 
I'm NOT a baker by any means. My version of baking dessert usually involves buying some form of pre-made cookie dough and spooning it on a baking sheet before throwing it into the oven. 
This dessert makes me feel like I have some sort of magical superpower, where I can whip together a yummy homemade dish that takes minimal effort. And what tastes more like fall than a warm apple crumble with a scoop of vanilla ice cream on top? Hint – nothing! Have I sold you on this idea yet? 
So without further ado, check out this recipe below and let me know what you think! I'd love to help you bring the flavors of fall into your home. More importantly, I want you to have something yummy to enjoy with your family. There's nothing like dessert that can bring us together again after a long day.
Apple Pear Crumble Pie Recipe
Ingredients: 
For Crumble Topping: 
1 ½ cups quick cook rolled oats

½ cup all purpose flour

½ cup brown sugar

½ cup salted butter, softened

1 teaspoon ground cinnamon

Pinch of sea salt
For Pie Filling: 
2 cups sliced and peeled apples

2 cups sliced and peeled pears

¼ cup brown sugar

1 teaspoon ground cinnamon

⅛ teaspoon ground nutmeg

1 Tbsp fresh lemon juice
Instructions: 
Preheat oven to 350 degrees

Make the crumble topping by mixing together the rolled oats, flour, brown sugar, butter, salt and cinnamon in a bowl until well combined and crumbly. 

In a separate bowl, combine the apple and pear slices with the lemon juice, brown sugar, ground cinnamon and nutmeg until evenly distributed. Transfer the pie filling mixture to your baking dish and spread out evenly. 

Spread the crumble mixture evenly over the apple pear pie filling. Bake in the oven for about 40 minutes, or until the top layer is golden brown and the fruit filling is bubbly.

Serve and enjoy warm with a side of vanilla ice cream. Yum! 
Notes on variations and substitutions: 
This recipe will work well with whatever fruit you have on hand. If you only have apples and no pears, simply double the amount of apples in the recipe and omit the pear altogether.
Adding a pear into the mix can add a nice flavor and texture variety, though this tastes just as yummy with only apples. Vice versa, you can choose to make the fruit filling with just pears as well if that's what you have on hand. Also, if you have a bunch of leftover apples or pears from the end of the week that aren't getting eaten, this crumble is a good recipe for this, too! 
Oh, and if you have a toddler in your home who likes to take bites out of multiple apples (IYKYK), this can also be a great way to use them up so they don't go to waste. Simply cut off the bitten part and chop up the rest of the apple to use in this recipe. 
Lastly, for a more interesting texture to the dish, you can leave half of your fruit for the filling unpeeled. Sometimes, if I'm in a rush and don't really have the time to peel all my fruit, I'll leave the peel on both the apples and pears and simply slice for the filling. 
YOU DO YOU. 
There's no way to really mess up this recipe. I promise if you do what you can with what you have, something delicious will come out of that oven. 
Ways to Involve Your Kids in the Kitchen
Getting your kids involved in the kitchen can help increase their confidence with food by creating positive associations with cooking and allowing them to have safe exposures to food that don't directly involve eating. 
This is especially important for children who may be more selective eaters or have sensory sensitivities when it comes to food and eating. 
Ultimately, raising a healthy eater starts with creating positive experiences around food, and this can happen both at mealtimes AND outside of eating experiences. 
For many children, being involved with cooking and baking can be great opportunities to allow kids exposure to food that doesn't involve eating, as eating can sometimes involve more pressure. 
If you're looking for simple ways to involve your kids in the kitchen, you can give them tasks to do to help you prepare this dish. Just make sure to delegate tasks that are age-appropriate for your child. 
This might look like: 
Washing and drying apples and pears

Peeling fruit (use a child safeguard to keep little fingers safe)

Measuring out ingredients, like flour, brown sugar, and cinnamon

Stirring and mixing ingredients together

Spooning the mixture into the baking dish
These might seem small, but every positive food exposure can be significant in helping your children build a positive relationship with food. 
While cooking with kids can definitely add more stress to the kitchen environment, try to keep your eyes focused on the big picture. Inviting your children to help you participate in cooking can help create a nurturing foundation for their relationship with food. Make it about the memories and learning experiences and trust it will come together. 
Moving Toward Freedom With Food as a Family
If you're healing in your relationship with food and your body, you might find that certain foods, like desserts, are challenging to incorporate into your home or deliberately expose to your children. 
As a mother who's recovered from an eating disorder, I vividly remember the many food rules I used to eat by that would leave little room for joy and fun. 
Desserts were definitely a food that brought about a lot of chaos and anxiety. I either tried to avoid them entirely or would binge on them, followed by days that were riddled with guilt and shame. Butter, sugar and all the ingredients that make foods delicious were fear foods, and I could've never imagined being able to share these foods with my own children one day. 
If you've found yourself in this situation, I want you to know you're not alone. I understand how challenging it can be and want you to know there's hope for healing and freedom with food. 
One way to help you work through fear foods, or foods that might be more of a challenge for you right now, is to normalize them in your home. Making foods alongside your children can help you experience them through a more neutral lens, as can eating them with your kids. 
Our children can be the biggest motivators for healing, as we observe their innate abilities to eat and trust their bodies. Allow these eating experiences with your kids to remind you of what a peaceful relationship with food can look like.
No matter what situation you may find yourself in, there's always so much hope for you and your children to enjoy freedom with food as a family. 
For more help and support with this, be sure to check out this blog post here: "How to Trust Your Kids With Sweets When You're Uncomfortable With Sugar" 
I'm cheering you on, friend! If you try out this recipe, let me know in the comments below what you think and if you made any changes or variations. 
From my kitchen to yours, I hope you and your family enjoy it!